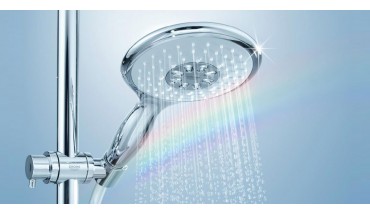 You use it to get clean, refresh, relax or get invigorated, but how much do you really know about your shower? Did you know that the average shower lasts eight minutes in America, or that the shower is the third largest source of water use in the average American home? With conserving water and saving money and time becoming increasingly important to many people, here are the five most important things you should know about your shower from GROHE, the world's leading single-brand manufacturer and supplier of kitchen and bath fittings:
1. NOT ALL SHOWERHEADS ARE CREATED EQUAL
Different showerheads emit water at different rates, and that "flow rate" affects how efficient a showerhead is – or isn't. Federal law limits the maximum allowable flow rate to 2.5 gallons per minute (gpm) for showerheads, but some have even lower flow rates. The less water that comes out of the showerhead per minute, the less water that will get wasted down the drain. If your showerhead pre-dates 1980, it could be using more than 5 gpm.
Replacing a less efficient showerhead with one that has a lower flow rate, like the many GROHE showerheads and hand showers with EcoJoy technology, can save water and money – without sacrificing performance.
2. YOU CAN RENOVATE A SHOWER WITHOUT TEARING THROUGH THE WALL
Updating a shower can improve its efficiency and your shower experience, yet the potential need to open a bathroom wall may make you hesitate. "Shower renovations don't have to require major re-plumbing," said Cheryl Dixon, Head of Brand Trade and Marketing for GROHE. The GROHE Retro-Fit Shower System can be installed in less than an hour, connecting to your existing plumbing system without breaking the tile wall, and comes standard with a hand shower as well as a traditional showerhead. With three recently introduced models, the system makes it easy to renovate a shower and update a bathroom, even if you're a renter who wants a quick and easy upgrade.
3. Thermostatic valves provide a customized, consistent shower.
How much water goes down the shower drain while you're waiting for the temperature to reach a comfortable level? "Adding a shower with a thermostatic valve not only ensures you'll never again step into an icy shower stream or be surprised by a temperature fluctuation, it can also reduce the amount of water you use," Dixon advises. GROHE's GrohTherm 2000 thermostatic valve is a modern solution for both the bathtub and the shower, combining all the advantages of a thermostat with a perfect water experience. GrohTherm 2000 features GROHE CoolTouch® to avoid the risk of scalding, a functional tray for convenience and XL Waterfall for an aesthetic water flow. If you're planning a bathroom renovation, a professional can easily install a thermostatic valve that will ensure water reaches the desired temperature sooner and stays at that temperature throughout your shower.
4. Showers are growing.
Bigger seems to be better when it comes to showers, and studies show that many people are significantly expanding the size of their showers during renovations. Larger showers are ideal places for relaxation and rejuvenation, and walk-in showers with oversize panes of glass, multiple water sources and oversize rainshowers are becoming increasingly popular.
5. Conserving water in the shower is good for your wallet and your soul.
Water costs can vary widely depending on where you live in the country. No matter where you live, however, reducing the amount of water you use will decrease both your water bill and your utility bill (electric or gas, depending on which fuels your water heater). To calculate how much you could save, you first need to get a better idea of how much water you use. The USGS Water Science School offers a great online water use calculator. Once you know how much water you use, you can take steps to reduce consumption, including:
Installing more efficient showerheads.
Reducing shower time to about five minutes.
Using technology such as thermostatic valves and digital controls to shower more efficiently.
"Sustainability is a core principal during the design process at GROHE," Dixon notes. "Between our water-saving technologies, faucets with adjustable flow rates and WaterSense products, we're proud to be category leaders in that regard," she concludes. Using less water is good for the environment, so you can feel positively about your water conservation efforts, all without losing any enjoyment of your shower experience.
If you want to learn more about more you can visit our store, or download our brochures